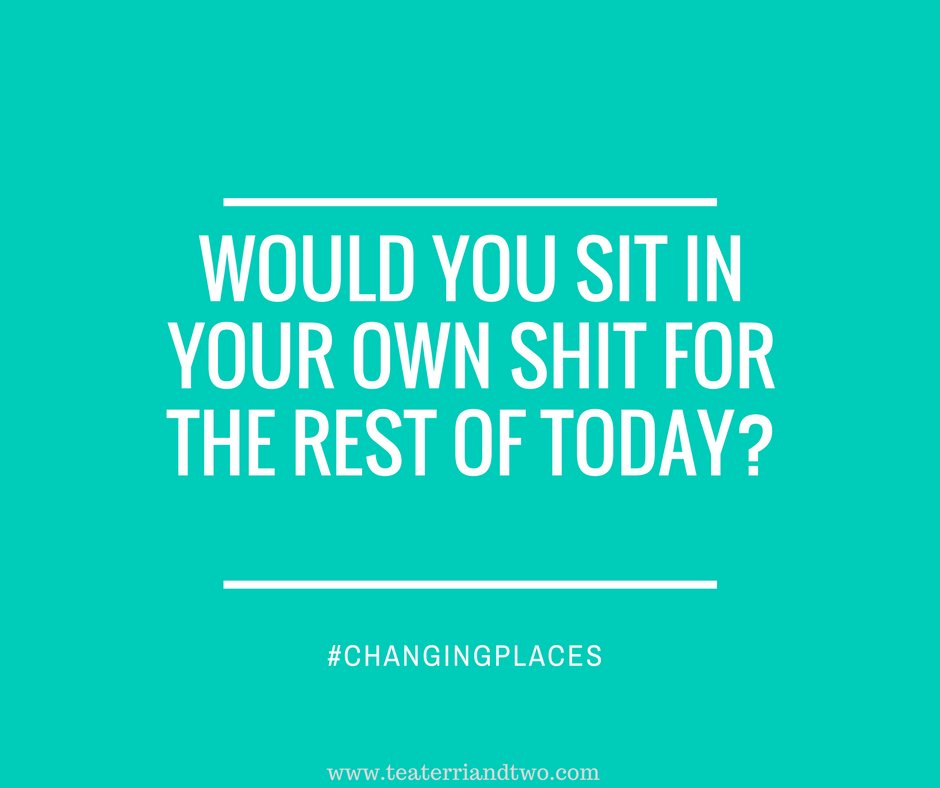 Forgive me. 
That's a harsh reality unfortunately for a lot of disabled people and there's nothing they can do about it. That's right.. in 2016 there are grown adults and children sitting in their own soil because there are very few fully accessible toilets available, so many disabled people are missing out. While we happen to have hooks on the back of toilet stall doors to hang our handbags, to keep them off the filthy floor –  we're expected to change our loved ones on the same floor. It's not something most people will talk about so understandably not everyone is aware of it until it's pointed out.
A local mum who happens to be a great campaigner for changing places (information below) shared a blog post of hers regarding changing places. It struck a chord with myself as my ASN son is 8 years old,  he has continence issues. As a growing lad who is very reluctant to stand for changing (thankfully is able, just unwilling and cannot express why as he's non verbal) and is getting too big to change safely on my knee and may very well need a large changing table when he's older. A few of the comments that followed were disgusting and highlighted just how much of an issue it is.


"We simply can not accommodate everyone and everything."  Well actually.. when it comes to toileting needs yes, you can with a hoist assisted toilet and an adult sized changing bench in a spacious room. When we're talking about huge square footage stores / public areas this surely can't be so difficult.






"Go somewhere that suits your individual needs or find a way to manage." – Dear Miss Heartlessoldhag – do explain how you "find a way to manage" day to day with a grown adult? One who needs changed. By manage, do you mean allow them to sit in their own soil until they're home or stay at home all day? Going to the toilet is a basic human right.
"Whats the difference between putting a towel on the floor and putting a towel on one of those filthy changing tables?" – (Genuine comment) Well for starters.. you can antibacterial wipe clean a table. I don't know about her, but I certainly don't prepare to change my child by bringing my mop and pail and disinfectant to clean the toilet floor beforehand (which by the way has 77000 germs and viruses on it, including dog feces particles, urine and everything else you or I may step on) Secondly if I would not lie on the toilet floor myself, then my child is certainly not going to lie there to have his basic needs met. Thirdly most of these changing tables you're referring to that are available currently hold at best a two year old. A full size changing table will accommodate everyone who may need it.
Let's talk about disabled toilets. We've all seen them, most look similar to the one above. A lot of people don't realise that accessible toilets are not actually accessible for a fair amount of people. In fact, these are only suitable for those cognitively able with mobility issues. They have to be able to physically assist or be assisted in getting on and off the toilet. Even some hospitals are not equipped with a toilet that everyone can use. In order for a toilet to be fully accessible, it requires an adult sized changing bench. A hoist to lift a person to and from a chair to the bench or toilet. A lot of disabled toilets are already an adequate size but do not provide the aids for whatever reason.
The alternative is change on the floor or sit soiled all day. Changing on the floor is a tough reality, unhygienic and unsafe. Firstly the germs, I don't even want to think of what gets trailed into public toilets. Secondly, if a grown adult is unable to get to or from a toilet themselves there's every possibility they're unable to get on and off the floor themselves. This means the carer has to lift a person off the floor and onto their chair. This is beyond difficult. Emotionally and physically draining. Dangerous, but an absolute last resort when the only other option is leaving a loved one soiled for the remainder of the time they're out of the house.
That's the reality of the situation. Much like every other thing in the world that people have to campaign for it's not going to be made available until people are aware or ask for it. It's about time businesses were aware it's not only babies that need changing. More people need to talk about this. More businesses need to be aware that people are missing out. Their basic needs are preventing them from using their services easily.
Use social media, share the above video, query why businesses don't provide changing places. Tweet about it. E-mail MP's about it. The government could provide some kind of incentive for businesses who make reasonable adjustments to be more inclusive of those with disabilities. Everyone needs to go. Why is it still more difficult for the most vulnerable people in society to go comfortably? More needs to be done to highlight the problem and to change this.

More information
The barefoot challenge – "Imagine having to stand bare foot on a urine soaked, muddy, wet public toilet floor. Now imagine having to lay in it." Take a selfie of sorts. Your barefeet on a public toilet floor alongside, tagged #barefootchallenge and help raise awareness at the lack of changing places available.
You can find the original post here, where the comments on huffington parents facebook page prompted this post.